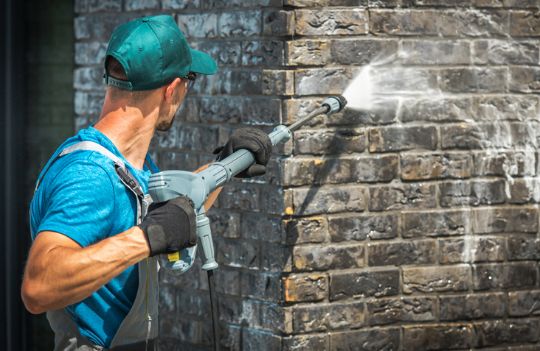 Controlled hot power washer
Pressure washing is a great way to maintain the cleanliness of your home or commercial establishment. The buildup of dirt and grime can quickly add up, taking away from the beauty of your property. Believe it or not, you can have a clean exterior, from the side of your home or office to your deck or sidewalk. We use only the most environmentally friendly cleaning chemicals to help protect the environmental surroundings.

Your office is your sanctuary. Its how you and others perceive your professionalism. It starts in the parking lot, leads up to the sidewalk, and ends with your building. You want to be proud of your facility, and we would like to help. If you have dirt, grime or any other unsightly stains on your commercial building or office contact us today. Our prices are affordable, and we are always prompt for the fastest turnaround time available.

As a full service painter we also offer affordable commercial painting services. Our team is trained to go above and beyond, staying up to date with the most cutting-edge techniques and applying them where they count. If you have a deadline and need your painting project done by a specific date our painters will meet or exceed the deadline. Many of our commercial painting jobs include; banks, doctor's offices, hospitals, office buildings, and much more. Our painters will also work with a wide range of contractors and property managers to help ensure you receive the highest level of quality.

Hours
Monday - Friday: 9:00am - 5:00pm
Emergency Services Available